A range of best grade and highly efficient seals like Reverse Balance Seals, Multi Spring Seals, Mechanical Pump Seals etc that are highly versatile in their utility and configuration.

About Us

When we envision an industrial entity, the one of the first thoughts that come to our mind are the sprawling manufacturing units that utilize an assembly of complex machines and heavy equipments, all working smoothly in tandem as if they are all part of a single unit. But this excellent coordination requires conjoining tools that join two individual components to create a larger working part, ensuring that they work efficiently without any dip in their synergic performance, and one such tool that is brought to use on a huge scale is a 'seal', which come in a range of configurational variations to suit the purpose.
Established in 2011, Fluid Seals (India) is a reputed name in the domain owing to its range of superiorly built seals that are known for their excellent performance and durability as well as their versatile usage scenarios. An ISO 9001:2008 Certified company, we are an eminent Manufacturer and Supplier and Exporter of a wide range of seals such as Reverse Balance Seals, Reverse Balance Seals and Spring Mechanical Seals.

| | |
| --- | --- |
| Click Below To Download | |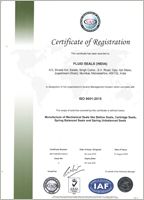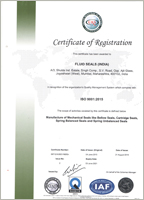 Read More